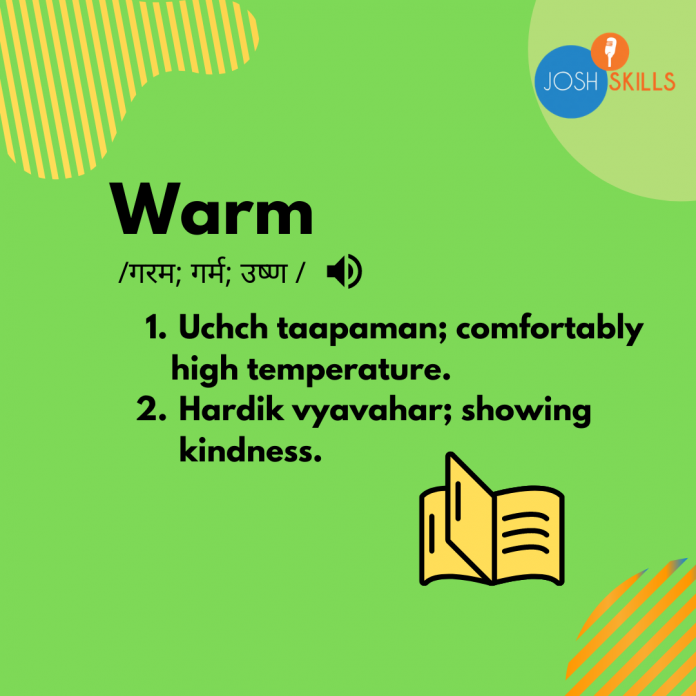 Origin
Warm shabd ek german word hai. Isse purani English mein werman ya wearmian bola jata tha.
Meaning/Arth
Adjective
Uchch taapaman yani garam
Hardik vyavahar
Noun:
Koi garam jagah
Example
It was a warm afternoon; Ek garam duphar thi.
In this cold weather, we should wear warm clothes; Iss thand ke mausam mein hume garam kapde pehnane chahiye.
Words similar to Warm; Warm ki jagah use hone wale shabd (Synonyms)
Hot: Garam/ garami
It's very hot outside; Bahar bahot garami hai.
Lukewarm: Gunguna
Can I get lukewarm water?; Kya mujhe gunguna paani mil sakta hai?
Balmy: Garam/ suhana taapman
The balmy climate made everyone happy; Suhanee mausam ne sabko khush kar diya.
Temperature: Taapman
The temperature today is very high.; Aaj ka taapman bahot garam hai.
Words opposite to Warm; Warm shabd se vipareet use hone wale shabd (Antonyms)
Cold: Thanda
It was cold and dark outside; Bahar thanda aur andhera hai.
Chill: Sard
I have kept the ice cream in the fridge to chill; Maine ice-cream ko fridge mein thanda karne ke liye rakh diya hai.
Cool: Thanda
The place was very much cool; Wo jagah bahot thandi thi.
Josh Skills App par Sikhe Fluent English Bolna