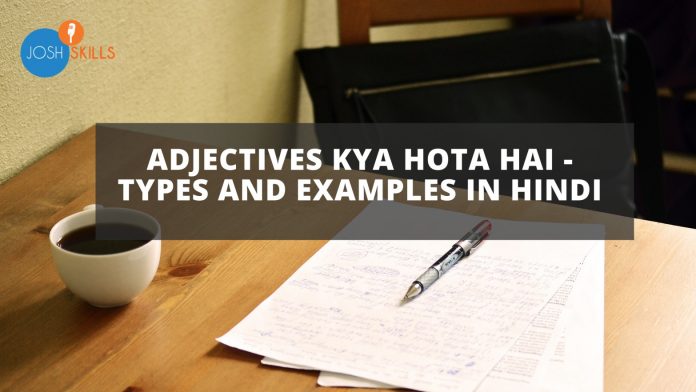 Adjective ka hindi meaning hota hai Visheshan. Iss article me hum dekhenge ki Adjective/Visheshan kya hota hai, unki definition aur examples, unke types and unhe kaha aur kese use karna chahiye.
Definition of Adjectives
Adjective/Visheshan kya hota hai iska answer apko iss section me mil jayega aur usko use karne ka tarika aur examples next section me bataye gaye hai.
Adjectives wo words hote hai jo dusre words ko describe ya modify karne me use kiye jaate hai. Isse aapke sentences aur zyada specific hote hai aur kaafi interesting bhi ho jaate hai.
Ab kuch words jese small, different, important, few descriptive hai, matlab kisi chiz ko describe kar rahe hai, isliye yeh sab adjectvie kehlate hai.
Ab adjective ka use kisi cheez ko identify karne ke liye ya kisi ko quantify karne ke liye hota hai, isliye yeh generally kisi noun ya pronoun ke pehle lagte hai. Isse yeh unki quality batate hai. Isiliye ek sentence me ek se zyada adjective bhi ho sakte hai.
Isko yaad karne ka tarika ka bhi kaafi easy hai: Visheshan matlab visheshta batana.
Jaise, Rahul is fat. (Rahul mota hai). Yaha par Rahul ek noun hai aur jo word hai fat, vo yeh bata raha hai ki jo noun hai Rahul vo kesa hai, matlab uski visheshta bata raha hai ki vo mota hai.
Try English kaise seekhe 3 asan steps me!
Josh Skills App par Sikhe Fluent English Bolna
Examples of Adjectives
Ab adjective ke kuch examples neeche diye gaye hai. Inn examples se aapko samajh aayega ki adjective/Visheshan kya hota hai aur inka use kaha karna hai aur yeh sentence me kya change laate hai. Bold kiye hue words ko adjective kehte hai.
Example: They live in a big, beautiful place.
Yeh sentence bina adjective kuch aisa hoga: "They live in a place." Yeh sentence padhne me suitable nahi hai aur na hi isse clarity mil rahi hai place se related.
Isliye inn jagah hum adjective ka use karenge jisse hum place ki quality thodi specify kar sakee jisse reader ko thodi clarity bhi milegi aur sentence bhi suitable banega.
Similarly, neeche diye gaye sentences bhi bina adjective ke irrelevant hoge isliye adjectives ka use kiya hai.
Since it's a hot day, Simran is wearing a sleeveless top.
The mountain tops are covered in sparkling ice.
On his birthday, Rahul received an antique vase filled with glorious flowers.
Types of Adjectives
Ab hume pata hai adjective kya hota hai. Ab hum adjective ke types ke baare me padhenge.
Adjective ke bahut saare type hai but broadly inko 8 categories me divide kiya gaya hai. Inn sab ke baare me iss section me explain kiya hai examples ke saath.
Qualitative Adjective – Gunvachak Visheshan
Qualitative Adjective vo adjectives hota hai jo kisi person aur thing ki quality batate hai. Inko yaad bhi essehi kar sakte hai ki Qualitative matlab quality batane wale adjective.
Examples
Red, Green, Fat, Long, Old, Good, Bad, Tall, Short, etc.
Usage
Does anybody have a red pen?
The leaves are so green.
Rahul is fat.
Sheena has beautiful long hair.
The temple is old.
Simran did good work.
He is a bad boy.
Rohan is tall, while his sister is short heighted.
Quantitative Adjective – Pariman Vachak Visheshan
Quantitative Adjective vo adjectives hote hai jo kisi person aur thing ki quantity batate hai. Inko yaad bhi essehi kar sakte hai ki Quantitative matlab quantity batane wale adjective.
Examples
Whole, much, more, little, enough, no, etc
Usage
Whole world is suffering due to COVID-19.
He is much smarter than his brother.
I need more sugar.
There's little change in the plan.
I don't have enough money.
He has no water.
Demonstrative Adjective – Sanket Vachak Visheshan
Demonstrative adjective vo type ke adjectives hai jo kisi person, place aur thing ko point out karne ke liye use kiye jaate hai. Inko yaad karne ka tarika bhi easy hai: Demonstrative matlab kisi ko present karna ya point karna.
Examples
This, that, those, these, such are main demonstrative adjectives.
Usage
This is my house.
I don't like that place.
Those kids are playing.
These apples are good.
Such girls are beautiful.
Possessive Adjective – Sambandh Vachak Visheshan
Possessive adjectives vo adjective hote hai jo relation ya possession show karne ke liye use kiye jaate hai. Isko yaad karne ka tarika bhi easy hai: Possessive matlab possess karne wala, own karne wala.
Examples
Your, my, mine, our his, her, its, their are main possessive adjectives.
Usage
Your name is unique.
My name is Rohan.
This book is mine.
Our class is cancelled.
His marks are so good.
Her brother is caring.
Its color is red.
Their group won the competition.
Proper Adjective – Vyakti Vachak Visheshan
Proper adjective ek adjective form hota hai proper noun ka. Jab ek noun/pronoun describes aur modifies karta hai another noun/pronoun, toh vo proper adjective ban jaate hai. Proper matlab 'specific' jisse hum summarize kar sakte hai concept one word me.
Usage
"A food cooked in chinese recipe" ko proper noun ki help se hum "Chinese food" bol de toh humara message convey ho jayega.
Examples
I love KFC Burgers.
Indian people are hard workers.
Honda cars are very strong.
Interrogative Adjective – Prashna Vachak Vishesh
Interrogative adjectives vo adjectives hote hai jinka use sentences me tab hota hai, jab koi question puchna ho. Isko yaad rakhna bhi easy hai: Interrogative matlab jo bahut saare questions puche.
Examples
What, which, whose, etc.
Usage
What is your name ?
Whose book is this ?
Which car is yours ?
What, whose, which ko distributive pronoun kehte hai jab iske baad koi noun na ho toh.
Which is your notebook? – Which = distributive pronoun
Which pen is red? – Which = distributive adjective
What is in your hand? – What = distributive pronoun
What type of smartphone do you have? – What = distributive adjective
Indefinite Adjectives – Anishchit Vachak Vishesh
Indefinite adjectives vo adjectives hai jo describe aur modify karte hai noun ko unspecifically. Yeh indefinite information provide karta hai noun ke baare me.
Examples
Few, many, much, most, all, any, each, every, either, nobody, several, some are indefinite adjectives.
Usage
I gave some notes to her.
Each student will have to submit homework tomorrow.
I want a few moments alone.
Several writers are writing about COVID-19.
Articles
Articles bhi noun modify karte hai isliye articles bhi ek type ke adjective hai. Yeh determine karte hai specifications noun ke liye. 'A' and 'an' use hota hai unspecific noun ko refer karne liye aur 'The' use hota hai specific noun ko refer karne ke liye.
Examples
A, an and the are most commonly used article adjectives.
Usage
A cat is afraid of dogs.
I bought an electric car.
The dog is afraid of humans.
Adjective Exercise
Neeche diye gaye blanks ko suitable option se fill karna hai. Isse aap ko aur ache se samajh aayega ki Adjective ya Visheshan Kya hota hai.
Questions:
1. We visited the museum, where we saw _________ artifacts.
A lot of
Ancient
John's
A room filled with
2. I received _______ awards at the ceremony today.
The Manager's
Two
Information about
Motivation at the
3. Please get me a bag of _______ apples.
Interesting
Ripe red
Oranges and
Real
4. The president sat in a _______ chair.
Important
Barber's
Funny
Leather
5. ________ weather is the norm in India.
Blue
Hot
Foggy
The best
Answers:
B – We visited the museum, where we saw ancient artifacts.
B – I received two awards at the ceremony today.
B – Please get me a bag of ripe red apples.
D – The president sat in a leather chair.
B – Hot weather is the norm in San Francisco.
Some Commonly Used Adjective with Hindi Meanings
Inn words or meanings ko padhne ke baad apko ache se samajh aayega ki adjectives kya hota hai or inhe kaise use karte hai.
Other – Anya
New – Naya
Good – Acha
High – Ucha
Old – Purana
Great – Mahaan
Big – Bada/Vishal
Small – Chota
Large – Bada
National – Rashtriya
Young – Yuva
Different – Alag
Black – Kala
Long – Lamba
Little – Thoda
Important – Zaroori
Bad – Bura
White – Safed
Best – Shreshth
Only – Sirf
Low – kam
Late – Der se
Hard – Mushkil
Better – Behatar
Strong – Balwaan
Possible – Mumkin
True – Sach
Clear – Spasht
Current – Vartaman
Wrong – Galat
Short – Kam
Private – Nijee
Common – Samanya
Hot – Garam
Ready – Tayyar
Happy – Khush
General – Samanya
Entire – Sampurna
Popular – Lokapriya
Traditional – Paramparagat
Huge – Vshaal
Nice – Acha
Main – Mukhya
Final – Antim
Religious – Dharmik
Legal – Kanuni
Democratic – Lok tantrik
Various – Vibhinn
Central – Kendriya
Significant – Valued/Mahatvapurn
Conclusion
Iss Article ko padhne ke baad apko ache se samajh aajayega ki Adjective ya Visheshan kya hota hai, Unka use kaise Kiya jata hai. Ab next time aapko sochna nahi padega ki adjective kya hote the aur yaha use karna thik rahega ki nahi.
Join Josh Skills Spoken English Course
Judiye 20,000+ logo ko jo Josh ke saath English bolna aur padhna seekh rahe hai. Iss Spoken English Course ko aise design kiya gaya hai, ki koi bhi basic learner iss course se apne theoretical and practical grammar ko improve kar sakta hai. Everyday situations mei english ko kaise most effectively use kiya jaa sakta hai – iss par bhi extra dhyaan diya jaata hai. Ye course Josh Skills mobile App par available hai.
Toh aaj hi shuru kare apni learning journey Josh Skill ke courses ke sath.