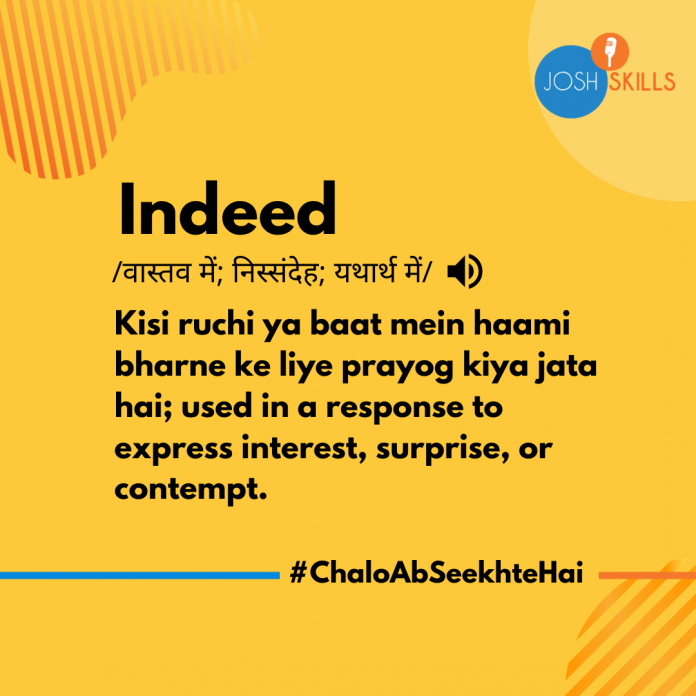 Origin
Shuruwat mein 'Indeed' of 'in deed' likha jata tha, dono ka matlab ek hi hota hai.
Meaning/Arth:
Aayi jante hai Indeed Meaning in Hindi, unke synonyms or antonyms ke saath.
Adverb:
Vastav mein (वास्तव में) ya sachhmuch mein
Kisi ruchi ya baat mein haami bharne ke liye prayog kiya jata hai.
Examples:
Raj was indeed very tired; Raj sachhmuchh bahot thaka hua hai.
Indeed, the rate of infection has grown steadily; Vastav mein, sankraman ke dar lagataar badhee hai.
Words Similar to indeed; Indeed shabd ki jagah use hone wale shabd (Synonyms)
Kuch aise shabd bhi hote hai jo ek dusre ki jagah use kiye ja sake. Aise hi kuch shabd jo Indeed ki jagah hum use kar sakte hai niche de rakhe hai. Indeed meaning in hindi ke saath saath yeh sab jana bhi zaroori hai.
Absolutely: Poorn roop se (पूर्ण रूप से)
That's absolutely right; Yeh poorn roop se sahi hai.
Truly: Vastav mein
He truly enjoyed the party; Usne vastav mein partee ka anand liya.
Surely: Nishchit roop se
She will surely come to my home; Wo mere ghar nishchit roop se aaegi.
Undoubtedly : Nishchit roop se
Waking up early is undoubtedly difficult; Subah jaldi uthna nishchit roop se kathin hai.
Words opposite to Indeed; Indeed shabd se vipareet shabd (Antonyms)
Aise kuch shabd jinka matlab Indeed shabd se ulta hote hai, wo hai:
Doubtfully: Sandeh
She looked at him doubtfully; Usne sandeh se uski orr dekha.
Questionably: Sandeh roop se
Teacher looked at the student questionably; Shikshak ne chhaatr ki orr sandeh roop se dekha.
Josh Skills App par Sikhe Fluent English Bolna