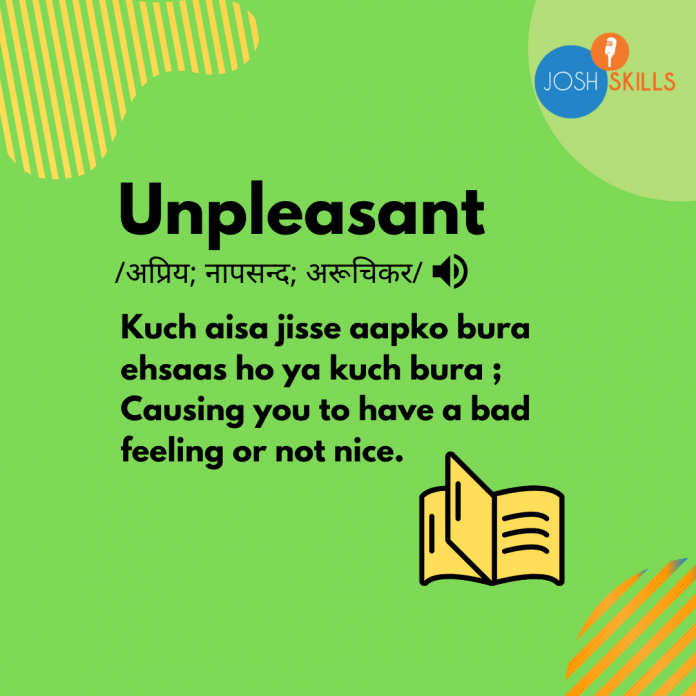 Meaning/ arth
Aayi jante hai unpleasant meaning in Hindi.
Adjective:
Apriy (अप्रिय) ya Napasand (नापसन्द )
Kuch aisa jisse aapko bura ehsaas ho ya Kuch bura; Causing you to have a bad feeling or Not Nice.
Example:
There was an unpleasant smell coming from the kitchen; Rasoi mein se apriy gandh aa rahi thi.
Our trip was quite unpleasant; Humari yatra kaafi apriy thi.
Summers are hot and unpleasant; Garamiyo ka mausam bahot garam aur apriy hota hai.
Unpleasant ki jagah use hone wale shabd with meaning in Hindi (Synonyms)
Bahot se aise shabd hote hai jinka ek hi arth hota hai. Aise hi bahot se shabdo ka arth unpleasant yani apriya se milta hai. Niche aise kuch words aur unhe hindi mein arth diye gaye hai.
Uncomfortable – Asuvidhaajanak
The place was quite uncomfortable; Woh jagah kaafi Asuvidhaajanak thi.
Terrible – Bhayaanak
This was my terrible experience with spice jet; Yeh mera Spice jet ke saath bhayaanak anubhav tha.
Displeasing – Apriy
Her reply displeased her father; Uske jawab ne uske pita ko naraz kar diya.
Unpleasant shabd se vipareet shabd (Antonyms)
Niche kuch aise shabd bataye gaye hai jinka arth apriy yani unpleasant ke vipareet hota hai.
Pleasant – Suhaanee/sukhad
This room is pleasant and comfortable; Yeh kamra sukhad aur aaraamdayaak hai.
Agreeable – Sahamat
Ron was in a agreeable mood after dinner; Raat ke khane ke baad Ron sahamat mood mein tha.
Lovely – Sundar
These roses are lovely; Yeh gulaab ke phool bahot sundar hai. 
Josh Skills App par Sikhe Fluent English Bolna