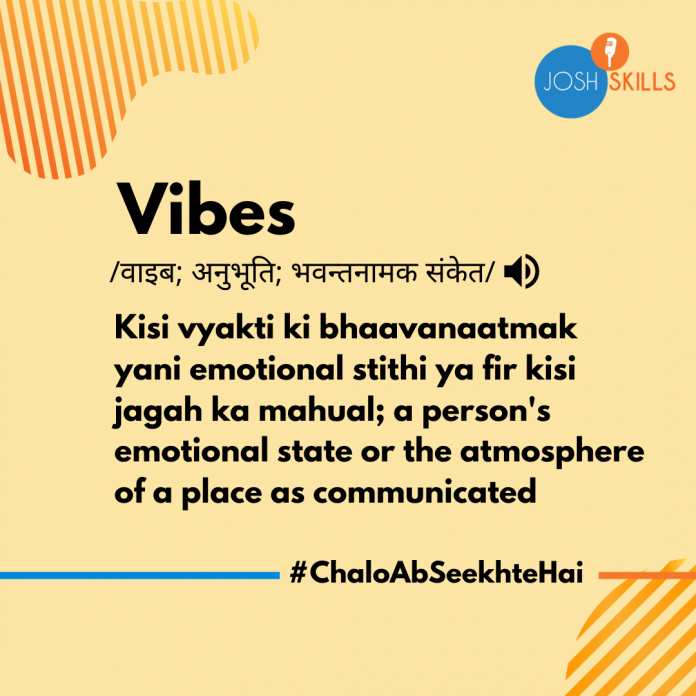 Vibes meaning in hindi janne se pehle hum janenge iss shabd shabd ka origin kaise hua.
Origin
Vibes, Vibration shabd ka short form hai. Pehli baar iss shabd ka prayog 1965 mein kiya gaya tha.
Meaning/arth:
Noun
Bhaavanaatmak sanket (भावनत्मक संकेत)
Kisi vyakti ki bhaavanaatmak yani emotional stithi ya fir kisi jagah ka mahual.
Iss shabd ka prayog tab kiya jata hai jab aapko batana ho ki kisi cheez ko dekh kar aapko kaise bhaavanaatmak sanket aa rahe hai. Wo ache, bura dono tarah ke hote hai.
Verb
Koi feeling transmit karna ya dena.
Examples
This place has very good vibes; Iss jagah mein kaafi achi vibes hai.
I didn't like the place; it had bad vibes; Mujhe wo jagah achi nahi lagi kyuki waha se muje bure bhaavanaatmak sanket aa rahe the.
Words Similar to Vibes; Vibes ki jagah use hone wale shabd (Synonyms)
Humne vibes meaning in hindi toh jaan liya. Ab jante hai vibes ki jagah use hone wale shabd yani uske synonyms.
Aura: Aabha
His aura is full of positivity; Unkee aabha sakaaramakata se bharee hai.
Energy: Oorja
She attracts people with her energyl Wo apni oorja se logo ko aakarshit karti hai.
Feel: Mehsoos karna
I feel good around him; Mujhe uske aas pass achha mehsoos hota hai.
Josh Skills App par Sikhe Fluent English Bolna